Lawn Signs
What are flutes?
---
The small spaces located on the bottom and top, or the sides of the plastic are called 'Flutes'. If you want a sign with wood stakes then you're going to want the flutedirection to be perpendicular to the stake itself. With H-wires the flutes are going to be parallel.
---
Does the orientation change my price?
---
No, you can lay your lawn sign out horizontally or vertically without changing the price.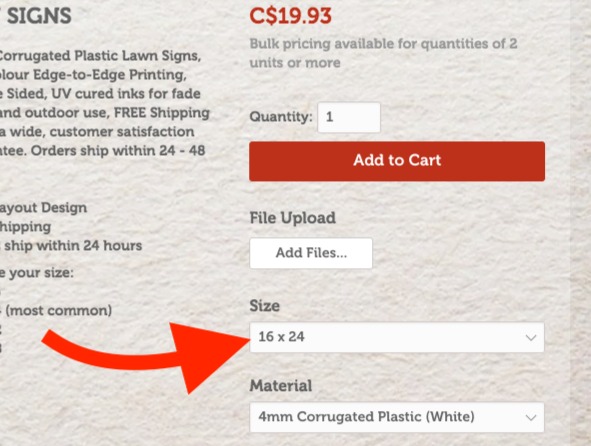 ---
What are the rules about placing signs on boulevards and public property?
---
Sign placement is governed on a municipal level in most provinces. You need to speak with your city or town office to find out the regulations. See the rules in Winnipeg Winnipeg Lawn Sign Bylaws
---
Are the signs printed with UV inks?
---
Yes, all our signs are printed using the latest Fuji Film UV resistant inks. You can leave your signs out for years without noticing a significant fade.
---
---
General
What is the turnaround time for lawn signs?
---
Most orders under 100 signs ship within 24 hours. Larger orders take between 2-5 days. Shipping timelines
---
What orders receive free shipping?
---
Lawn sign orders over $100 receive free shipping. We use Canada Post regular parcel service as our free shipping option. You can choose expedited shipping at an extra cost.
---
What forms of payment are accpeted?
---
We accept Visa and Mastercard. We do not accept Amex or cheques. All orders must be paid in full prior to shipping.
---
Are the signs recyclable?
---
Yes! Corrugated plastic signs are recyclable under Code 5
---
---
Artwork
What file types are accepted?
---
We prefer PDF or JPEG file formats. Live chat with us if you have another format, we may be able to accomodate your file format.
---
Will I see a proof prior to printing?
---
We can arrange to show you a proof, by default we don't provide you with a proof. We do however have a designer review your file prior to printing and will let you know if there is something concerning. Keep in mind we offer a 100% guarantee if you're not happy with the finished product.
---
What is the difference between CMYK and RGB and why does it matter?
---
RGB refers to the primary colors of light, Red, Green and Blue, that are used in monitors, television screens, digital cameras and scanners. CMYK refers to the primary colors of pigment: Cyan, Magenta, Yellow, and Black. This is used for all types of printing.
---
---
Frequently Asked Questions